Virtual Wine Tasting
Saturday, January 30, 2021
•
17 Sh'vat 5781
7:00 PM - 8:00 PM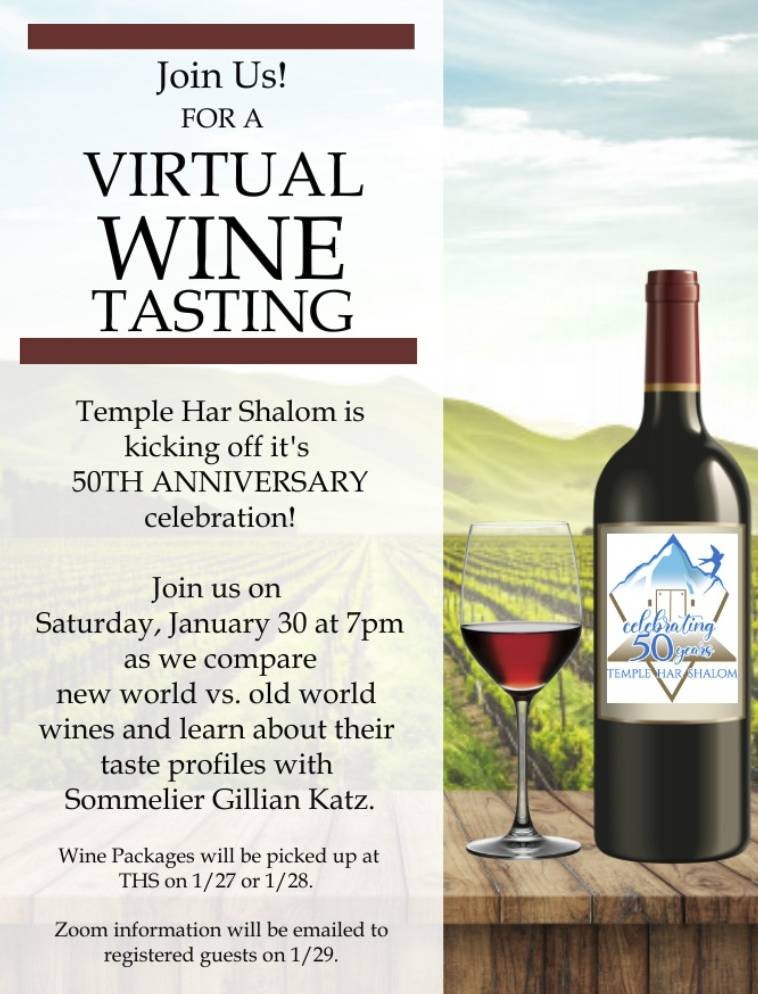 We are so excited to celebrate Temple Har Shalom's 50th Anniversary with this Virtual Wine Tasting event. We are offering participants the choice of one of the following packages:
Spectator - $36: This is an opportunity to log on and learn about the different wines and how to properly taste wine. No wine included.
Wine Time! - $72: 2 Bottle Tasting! Choose 2 bottles of Red or 2 bottles of White and experience an old-world vs. new world comparison.
Bottoms Up! - $144: All 4 bottles that we will be tasting plus a special 50th Anniversary gift.
Cheers to 50 Years! - $360: Everything in our Bottoms Up! Package plus listing as a sponsor of the event and entry to one of our extraordinary wine prizes (including a private Virtual Wine Tasting with our sommelier.)
Let us know if you are joining us by January 20th.
*All our Guardian members are sponsors of this event regardless of the package they select.
Share Print Save To My Calendar
Sat, January 16 2021 3 Sh'vat 5781